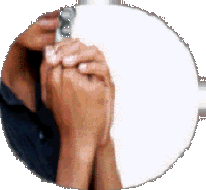 We invite you to attend our weekly prayer meetings on Wednesdays at 7:30 p.m. During the prayer meetings, we give testimonies, offer praise and thanks; and give honor to our Lord and Savior, Jesus Christ, for the many blessings He has bestowed upon us.
"And he cometh unto the disciples, and findeth them asleep, and saith unto Peter, What, could ye not watch with me one hour?" Matthew 26:40
We are a needy people. We rely on our Lord and Savior to supply our every need. Therefore, we pray God shall supply all your need according to his riches in glory by Christ Jesus." Philippians 4:19
The prayer meeting service is preceded by a message or Bible study from our Pastor. The service generally concludes before 9:00 p.m.
Corner Stone Baptist Church | 7995 Old Solomons Island Road, Owings, MD 20736 | 410.257.0157 | Ronald A. Titus, Pastor | 301.855.5630